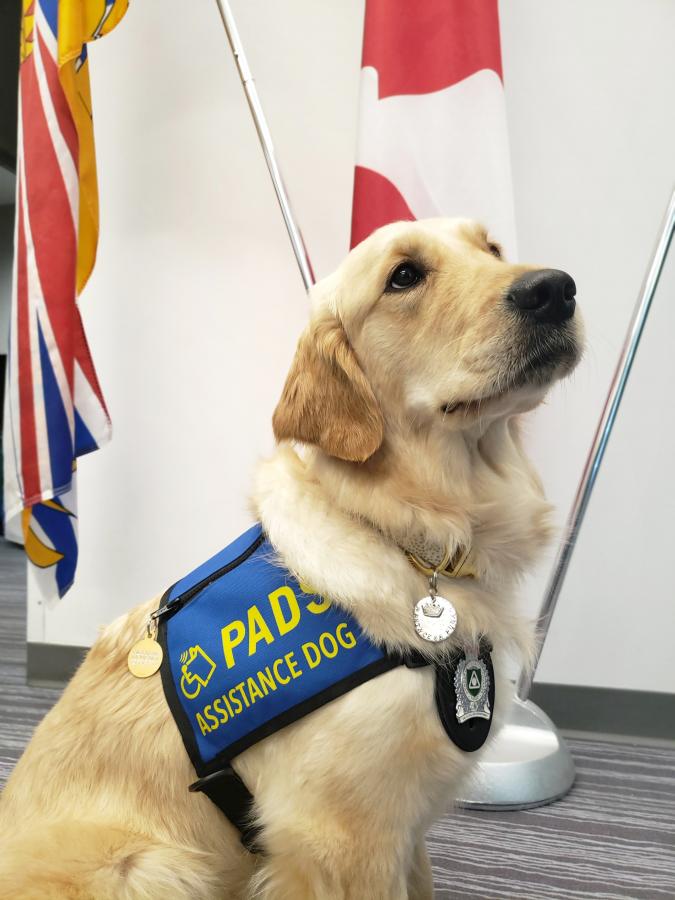 Justice Facility Dog - Puma
Puma joined our ranks in October 2019 and had some big paws to fill!
Her predecessor was Caber, Canada's first Victim Services Facility Dog (see Caber retirement: https://deltapolice.ca/portfolio-items/victim-services-k9-caber-retires… ).
Puma is a lovely purebred golden retriever. She was bred, raised, trained and generously provided to our program by the Pacific Assistance Dogs Society (PADS). PADS is accredited through Assistance Dogs International (ADI), which adheres to the highest caliber of training standards available. Puma was trained for 2.5 years for her role as a Justice Facility Dog, and was chosen for her calm and stable temperament.
Puma helps people by:
• Reducing blood pressure;
• lowering heart rates;
• helping people to return to an adaptive level of functioning;
• providing cathartic and healing touch;
• increasing oxytocin levels and reducing the negative effects of stress hormones;
• help improve cognitive functioning;
• promoting unconditional acceptance and non-judgmental support. P
Puma can assist in a variety of different circumstances:
• Providing support during crisis situations, particularly for people who have experienced trauma;
• supporting victims during forensic interviews by police, often in child sexual assault cases;
• attending meetings with clients to provide comfort during emotion-filled conversations, while completing paperwork or after talking to police; •
supporting witnesses by attending pre-trial interviews and sitting with vulnerable witnesses when they testify.
Puma's handler is Program Coordinator, Kim Gramlich. Puma lives with Kim, Kim's husband and retired Facility Dog, Caber.
Caber is always trying to teach Puma something new and she is working on his infamous "Caber Smile" right now. Puma's favourite thing in the whole world is swimming! Kim has presented internationally on the remarkable work of Justice Facility Dogs. She has presented to Justice Canada, the National Organization for Victims Assistance in the US, the FBI's Office for Victims Assistance and at countless universities and conferences in Canada and the US.
For more information about our Justice Facility Dog Program and Puma please contact
Kim Gramlich at 604.940.5007 or at [email protected]
You can follow Puma on Facebook and Instagram @PawsWithPuma and Caber on Facebook @K9Caber