IN MEMORY
Since the Delta Police Department was formed in 1888, two officers have died while performing their duties. We remain committed to honouring their memory.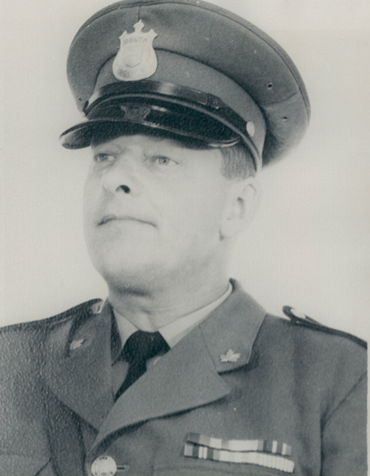 Staff Sergeant Ronald Edward McKay April 19, 1927 – November 2, 1974
On November 2, 1974 an altercation took place at a gas station in South Delta (Tsawwassen) resulting in the dispatch of two constables. They soon established that the suspect was a 29 year old local career criminal who had previously threatened the lives of police. S/Sgt. Ron McKay attended to take charge. S/Sgt. McKay drove to the suspect's residence and went ahead of the younger officers. "That's the kind of man he was," said Sgt. George Angus. "He wouldn't ever pass the buck to anyone else." The constables saw S/Sgt. McKay speak with the suspect at the front door of the residence. After a few minutes S/Sgt. McKay was shot at point blank range and died at the scene.
S/Sgt. McKay was buried in Boundary Bay Cemetery on November 7, 1974 with a police honour guard in attendance. Over 300 police members from across Canada and the United States were in attendance at the memorial service held in the Ladner Community Centre. This somber event was the first time the nine pipers and drummers of the Delta Police Pipe Band played in public.
S/Sgt. McKay was 47 years old and a 17-year member of Delta Police. He left behind his wife and two teenage children.
After the death of S/Sgt. McKay the Delta Police Department recognized the need for special training to handle high risk situations. The Emergency Response Team became operational in early 1975.
Chief Constable Merv Smith who hired Ron McKay on October 3, 1957 said "Ron was dedicated and conscientious officer who enjoyed outdoor living, stream fishing and children's sports. He was a family man. He loved his family and enjoyed service work in the community."
Deputy-Chief Terry Brennan described the death as "a great loss to the community." He said S/Sgt. McKay was a fine man and an "officer of great calibre".
Ron McKay was born in Vancouver. When he was 16 years old he entered the Merchant Marines and did convoy duty in the Pacific and Atlantic during the Second World War. Before joining Delta Police he served six years in the Provost Corps of the Canadian Army including duty in the combat zone in Korea.
Ron McKay was past-president of the Ladner-Tsawwassen Kinsmen Club, founder and past-president of the K40 Kinsmen Club of Ladner-Tsawwassen. He was an executive member of the BC Federation of Police Officers.
Alyce McKay, widow of S/Sgt. Ron McKay, passed away on August 30, 2013. Alyce attended the Police Officer Memorial for many years and was a great support for the Delta Police Department.
Constable Mark Nieuwenhuis September 25, 1963 – April 8, 2000
On April 8, 2000 the Delta Police Department lost Constable Mark Nieuwenhuis in a tragic motorcycle crash while on duty. Cst. Nieuwenhuis was on patrol at two in the morning, responding to reports that a black Corvette had been involved in a drag race at Tilbury Industrial Park. He lost control of his bike and crashed. He was 36 years old and left behind a wife and three young children. Mark was well respected nine-year member of the Delta Police Department.
Mark Nieuwenhuis was born in New Westminster, BC.
Mark first served DPD as a reserve constable from 1985 to 1987. He then served with the Winnipeg and Vancouver Police Departments before joining Delta Police Department in 1991. His fellow-officers remember Mark as a gentle and caring individual who always believed in the best of his fellow man. He had a great sense of humor, infectious smile and loved to laugh. He was a devoted husband and father.
Mark was committed to his work in the Traffic Section and particularly his work on the motorcycle, as he realized that while police officers are responsible for making their community safe, this also meant making the highways safe. Mark used and enforcement and education-oriented approach to his traffic duties. He also wrote an article in the local newspaper each month about traffic safety.
In 1995, Mark was instrumental in arranging a bicycle ride to raise money for the Children's Wish Foundation of Canada (the Foundation provides funds to allow terminally ill children to realize their most heartfelt wish). To raise money for this Foundation, Mark, with other cycling members of the Delta Police Department, met a contingent of bicycle riders from the Winnipeg Police Department at the BC/Alberta border. Both groups of cyclists then pedalled back to the coast.
In 1999, Mark made arrangements for and rode in the Tour for a Friend, a 600 km journey to raise money for the Canadian Cancer Society. He was also a popular coach of his son's baseball team.
Mark was a fine man and police officer who was well liked and respected by those he worked with and dearly loved by his family.