Ceremonial Unit
The Ceremonial Unit  (CU) serves as the official representative of the Chief Constable along with the Delta Police Pipe Band at all civic events throughout the City of Delta, nationally and internationally, when required or requested.
Annual events attended by CU include the British Columbia Peace Officer Memorial held in Victoria BC, Remembrance Day ceremonies, recruit graduation ceremonies, and other significant functions as directed by the Chief Constable.
The Delta Police Department Ceremonial Unit was formed in 2017.  The CU is comprised of approximately seventeen sworn and reserve police officers from the Department.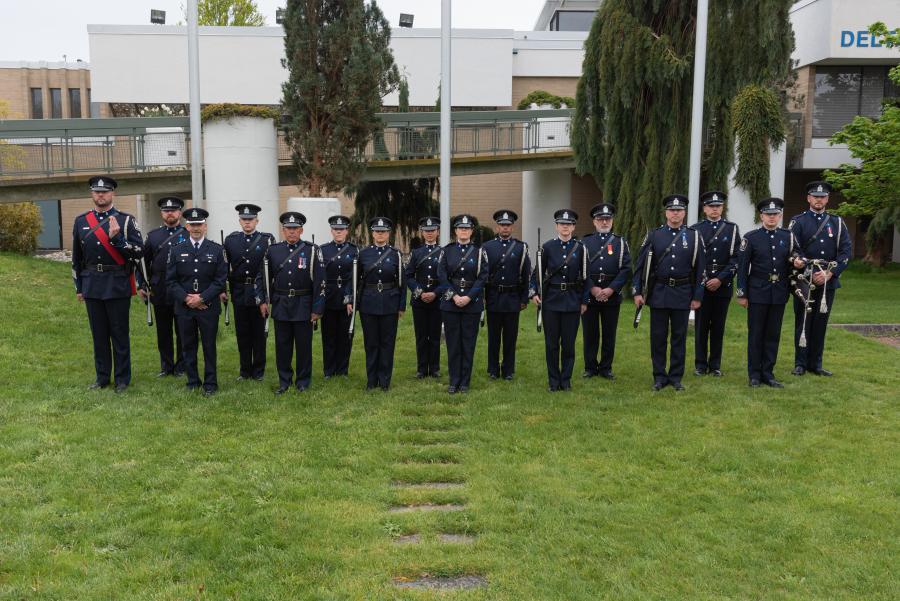 Prior to 2017, the CU was originally an Honour Guard that was formed to provide honors for officers killed in the line of duty. However, the CU has evolved into the Department's official Ceremonial Unit comprising of a Rifle Party, Color Party, and Honour Guard.
The CU is commanded by the Officer in Charge (OIC) and the Departmental Sergeant Major (DSM). 
Participants of CU are dedicated members of the Delta Police Department and perform their duties with the highest degree of Honour, Integrity, Courage, and Trust.
Uniform of the Ceremonial Unit:
The current iteration of the CU uniform is a modified version of the Department's  Class "A" dress uniform worn by all regular members during special events.  The modifications to the CU uniform incorporates various historical and distinct elements of the DPD.
The CU uniform patches are embroidered in silver, which is different from the patches of other members.  Additionally, each member of the unit has a distinct Honour Guard coat of arms patch on the lower right sleeve. The rest of the uniform is consistent with that of all DPD members, including rank insignias, distinguished rifle & pistol awards, and recognition of current or past assignments, such as K9, Emergency Response Team, Crisis Negotiator, and Tactical Troop.
The Ceremonial Unit Departmental Sergeant Major is identifiable with the four chevrons with crossed saber and crown on the right sleeve, in addition to a red sash.
The CU members are considered to be on duty while attending functions and parades.  As such, the CU wears a black leather Sam Browne belt complete with a pistol holster, magazine pouches, handcuff case, and diagonal shoulder strap, which was selected to complement the history of policing.